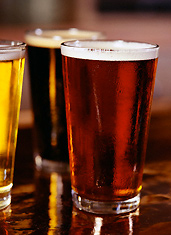 We know.
It seems like just the other day we were telling you about some great new truck offering you all sorts of alcohol-soaked delights. And
we were
.
Well, guess what: we found another one. And we hope you won't mind if we share...
Introducing
Brewtruc
, the city's first mobile bar, housed in a former school bus, slated to make its debut in the next week or two.
Now, if this sounds too good to be true, let us assure you: it
is
true. The owner/bartender Hugh (formerly of Le Truc) thoroughly researched the regulatory ins and outs of mobile dining and drinking. We'll spare you the legal jargon—but if anyone asks, your bus is a limo.
As with booking a limo, you'll start by making a reservation. Then, at the agreed-upon time, Hugh will roll up to your prearranged meeting point and whisk you away in his bus-bar (formerly used for shuttling day care center kids). Your destination: most likely the food trucks at Off the Grid.
En route, you can order craft brews from the likes of Mill Valley Beerworks, something called kriek from Belgium or wine from a tap—or have Hugh make you a martini. And we hear that soon the Brewtruc will begin setting up outside the different restaurants near AT&T Park, creating a sort of temporary beer garden.
If anyone asks, your beer garden's also a limo.