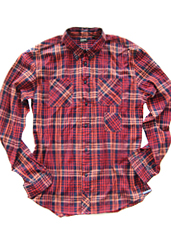 The perfect flannel shirt.
It's one of the holy grails of wardrobery. You can wear it with everything.
And it just so happens we know of a place with everything.
It's
Burkman Bros.
, a home for journey-inspired casual shirts, jackets and the occasional brass camel, brought to you by Canadian twins, available online now.
You already know
these guys
. They made that oxford-lined flannel shirt you love so much. You know, the one you struggle not to wear every day. Now, they've just taken the show to the Internet.
Ben and Doug (the Canadian twins) do a lot of traveling, which subtly shows in the clothes. Like the worn-in teal button-downs with barely visible leather pocket linings (imagine the Brawny man went to Mumbai, in a good way). But you can also expect a few extras, including the oddball fruits of their travels—like hand-carved wooden bowls from India and a vintage Asian monk water pitcher. (How you've gone this long without, we have no idea.)
Now there's a strong possibility you need some of this for fall—shirts, maybe even a waxed jacket. There's perhaps less of a chance you need a woven friendship bracelet. And almost no chance you need a brass camel.
But "need" is such a strong word...