Burkman Bros.
In Brother News
New Line for Sunnier Times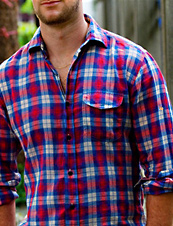 Between drifting snow, impending slush piles and the kind of gale-force gusting only
New York can produce, you may have warmer places on your mind...even if it's just Central Park four months from now.
 
And sure, a new pair of shorts may not immediately transport you to warmer environs, but then again...

Introducing Burkman Bros., a line of subcontinentally inspired low-key basics perfect for that upcoming island jaunt you may or may not be planning, landing today at Barneys.
 
Think of Burkman as the sort of gear you would find at a Mumbai prep school with a vintage New England pedigree and a bit of a West Coast surf attitude (you know, that old look)—so, worn-in polos, ponchos and button-ups, but in lightweight fabrics like madras that would look out of place unaccompanied by a boat drink. (Luckily, that shouldn't be an issue.)

The line is a bit rumpled in a way that you'll appreciate when you delay unpacking until you've dipped your toes in the ocean—not to mention there are actual brothers (you know, the Burkmans) behind the label who used to design for the Gap and Uniqlo. Which means nothing is too out there, but you'll find some more distinctive touches like an Indian buttonless polo and khaki shorts lined with oxford shirt fabric.  
Might be the perfect look for your office's new Slumdog Millionaire Thursdays.