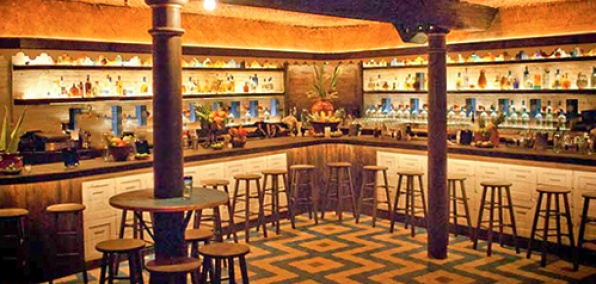 Information this valuable typically requires a sacrifice.
Human. Preferably virgin.
But we're feeling generous, so let's waive the fee.
And skip right to the part where the secret quesadilla hideout is revealed.
Presenting
Pulqueria
, a mysterious Mexican enclave in an abandoned Chinatown basement, opening tonight.
To be clear, you'd probably never find this place without our assistance, a nose for guacamole or prior knowledge of the devious Doyers Street cocktail den known as Apotheke (same brain trust, same block). So if you're thinking
mezcal flights
and mole duck enchiladas might interest you in the future, listen up.
First thing you'll need to find: a forsaken Vietnamese restaurant. It'll probably look closed, but that's just as well, because you're going into the cellar. Enter a concrete-encased set of stairs and exit into what can best be described as a Mayan temple meets a Mexico City social club. On your right, a turquoise dining room with lightning-charred tables and a wicker-woven ceiling. On the left, a big brassy bar with live music.
The initial play should be tacos (tilapia/skirt steak/pork confit) and thimble-sized samples of tequila. After that, consider making your presence felt near the bar, where you'll get to know the ancient-Aztec-warrior-endorsed, milky-white alcoholic substance known as pulque.
Sometimes it's best to drink first and ask questions later.