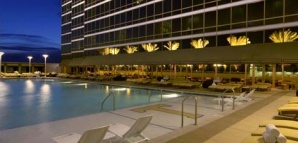 Sometimes you don't want
Rehab
. Sometimes you want actual rehab. Peace. Quiet. Serenity.
And most of all: luxury.
Welcome to the seventh floor of
Trump International Hotel & Tower
, home to the Donald's spa, health club, H2Eau cafe and pool deck.
The money man isn't playing games up here, and we think you'll grow to appreciate it. Only permanent residents and hotel guests are granted access to these facilities (yep, even locals are forbidden near anything except the spa).
This keeps things library-quiet and ultra-relaxing for insiders like you. Stretch out in one of the neatly aligned chaise lounges on the pool deck, and soon an attendant will be around with an ice-cold bottled water and a frozen towel. Within a few weeks, you'll be able to retreat to one of eight private air-conditioned cabanas, where butlers will see to your every need—stocking the fridge, supplying fresh fruit, advising you on a build-your-own mojito and fetching high-end fare from neighboring H2Eau's full kitchen (we're partial to the
Maine Lobster Cobb Salad
).
Whether melting away on a chaise or snoozing on one of the canopied chocolate day-beds, you'll hear only down-tempo grooves and the mild din of your neighbors.
Restraint. We didn't know the Donald had it in him.