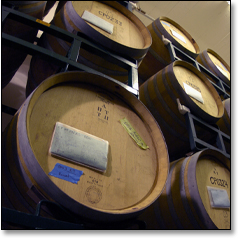 You've been meaning to get to know your neighbors. (Or at least the cute ones.)
And we can think of no better way than over a bottle—or barrel—of wine.
Introducing
Community Crush
, the latest brainchild from Crushpad Winery that's making winemakers out of urban dwellers like you, one neighborhood at a time.
The entire barrel-creating process will take about a year, but don't worry, Crushpad has made it inexpensive, low-maintenance and heavy on the socializing. (Plus, there's vino.) Start by signing up for the project
online
by September 14 (read: do it now before it fills up). After a wine-soaked launch party in your neighborhood, there'll be a harvest in early October (which you won't attend, because it involves hard labor), and later a crush camp in Potrero, where you'll sort grapes and perform punchdowns just like in that episode of
I Love Lucy
(you're Lucy).
Come February, you'll have the barrel-tasting party, when you and your neighbors will sample futures and decide on a label and name.
Then in August '09, you'll pick up your bottles at the celebratory release party.  
Sure beats Neighborhood Watch.