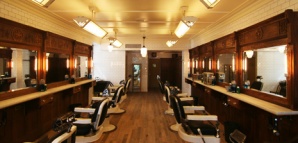 There's a lot to be said for an old-school barbershop, where a shave was a shave, a trim was a trim, and no one dared offer you aromatherapy.
Welcome to
F.S.C. Barber
, a '20s-era barbershop from the Freemans folks and barbershop mastermind Sam Buffa, opening Thursday in the West Village.
Just leave your coat and man-purse in the wooden lockers at the back and find your way to one of the antique barber's chairs. The décor is more Art Deco than Colonial, but between the subway-tile walls and the slate hair sink, you won't feel too inappropriately modern. All the employees are trained in both barbering and hairstyling, so they're equally adept with scissors, clippers and a straight razor, but your options are refreshingly straightforward: a shave or a haircut or…both.
If you've been to the shop in the back of
Freemans Sporting Club
, you know what to expect, but this spot throws in a few curveballs, like custom-made ivory straight razors carved from 10,000-year-old mammoth tusk, courtesy of
Black Sheep & Prodigal Sons
. Another new trick—soon to expand to the sporting club—is the
Hangover Remedy
, a hot towel followed by enough scented washes to clear away every trace of last night's excesses.
Just don't call it a facial.