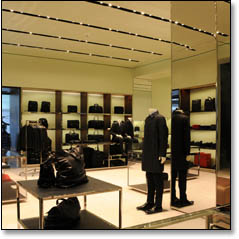 For T-shirts, you go local. For the finer sartorial elements, you go Italy.
Which is why you'll want to stop by the new—cue the trumpets—
Prada
flagship store, opening today in Union Square.
The luxe Italian fashion house's first U.S. flagship to open in almost five years, the shop was actually twelve years in the making. And with more than a decade to think, and plan, and wait, they seem ready to make up for lost time. A few highlights:
Windows/entrances:
With 10 large, black-framed windows—the most of any Prada store in the country—you can glimpse nearly the entire men's and women's collections from the sidewalk. The store also boasts entrances on three major streets (we're guessing this is a record as well); try the Post Street entrance, which lands you in the men's section.
Luxe luggage:
Prada started as a leather goods store in Milan in 1913 under Mario Prada. To reflect the company's beginnings, they're offering the classic Pergamena steamer trunks and crocodile luggage cases. (The only other American venues where you can find these: Madison Avenue and Rodeo Drive.)
Interesting ties
(and other men's clothing):
You'll find the brand's complete menswear line under this roof, debuting with Fall 2008. We're particularly big fans of the knotless tie—a skinny, slip-over-your-head neck ornament that's a study in clean lines and modern minimalism.
To customize all this elegance, the new shop also features a made-to-measure service for suits, sport coats and tuxedos. Which means you can hand-select everything from your jacket lining to your buttons as you snack on light refreshments.
In this case, either imported or domestic will do.