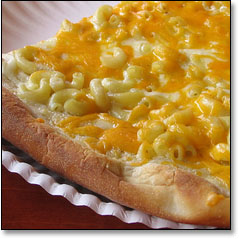 You've never been afraid to roll the dice when it comes to playing the craps table or the future's market. (It's only money, after all.)
But when it comes to something as important as your pizza, you don't take chances.
Which is why we encourage you to test drive Wrigleyville's new slice joint,
Ian's Pizza By the Slice
. The Wisconsin import opens tomorrow with a free tasting, and we're saving you a space in line…
We have to admit, we're strangely intrigued by this pie house, which no doubt aims to be your post-bleacher, carb-loading destination. A dietary staple up in Badgerland, Ian's appears to offer the greatest culinary curiosities to descend from our northern neighbor since beer cheese soup. Among the items raising our eyebrows:
Mac 'n' Cheese Pizza
, a pie strewn with elbow macaroni and bubbling cheddar cheese;
Steak and Fries Pizza
, which pairs sliced beef with—what else?—crinkle-cut fries, topped with an icing of Sweet Baby Ray's barbecue sauce; and finally, the
Chicken Burrito Pizza
, which promises a satisfying end to that most frequent of late-night culinary dilemmas.
Of course, you could always ask for a regular cheese pizza.
But when you're playing with someone else's dough, it's time to go all in.