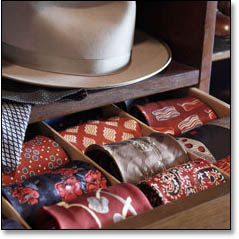 To stay on top of the game, well, you have to keep playing it.
So even the most esteemed arbiter of style could use a refresher now and then. Registration is now open for
The Lost Art of Being a Gentleman
, a new series of classes brought to you by the natty proprietor of
Jake Vintage
in Los Feliz.
Going by the name Jonathan H. Kanarek, he should meet your criteria for a qualified instructor—among his many sartorial accomplishments, he was shortlisted by
Esquire
last year as one of the top five best-dressed men in the country. (Luckily for him, you
just
missed the submission deadline.)
So despite current LA trends, he won't be advising you on the perfectly shredded jean or the artfully plunging V-neck. Expect instead to pour some gin and start with the basics in class one—
The Rules of Proper Dress
, addressing (among other things) correct fit from head to toe—and progress in subsequent sessions to topics like etiquette and grooming, all with midcentury icons like Sinatra and Stewart in mind.
So you can once again prove they
do
make 'em like they used to.