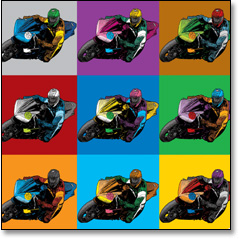 Ever since you moved into your huge new place, you've had trouble filling the walls. (It's so difficult to find good, original masterpieces these days.)
You've even been tempted to commission your own piece. We say: Go ahead.
Check out 
All Pop Art
, turning your favorite photographs into works of pop art.
All Pop Art will take pretty much any photo you want and—over 14 painstaking business days—transform it into a Lichtenstein-esque piece of modern art. They'll even frame the image for you (up to 52-by-42 inches) so it's ready to hang the moment it arrives.
Simply email them a photo of something you'd like to see displayed—could be anything from a shot of you and your girl on the streets of Madrid, to a shot of canned goods from your pantry (hey, if it worked for Warhol…).
You can choose from seven layouts, but we suggest the classic
four-panel Warhol style
 or the new, minimalist
Iconographic
.
And if you can't pull the trigger on your own snapshots, there's also
Silhouettes 2Go
, which puts the pop treatment on timeless images like a bicycle, or one of 30 dog breeds.
Because nothing says high art like a turquoise beagle.