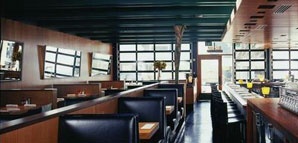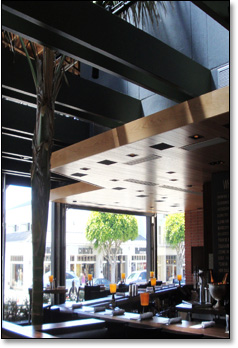 To truly understand what's before you, you must look past the façade.
Of course, it's easier when there's no façade at all—welcome to the new
R+D Kitchen
, a casual Santa Monica pub-style enclave that, on its better days, will be missing its front wall entirely.
Like the living room in an old sitcom, the three perfectly good walls here encase a breezy place to drop in and hang out while she's getting her Montana Avenue shopping done—or bring her, if she's the kind of girl who prefers your company over a beer and a really tall, really messy cheeseburger. Take a seat at the front of the L-shaped counter to chat up the bar crowd, a street-side table if you want to mingle with the passing pedestrians…or at a booth behind the central indoor tree, if you'd rather get that outdoorsy feeling a bit further inside.
The burger is of the classic variety—no
purple mustard
 here—or you might go for a martini and the
Prime Top Sirloin with Sharp Cheddar
if you're feeling more fork-and-knife.
In meat as in life, it's what's inside that counts.