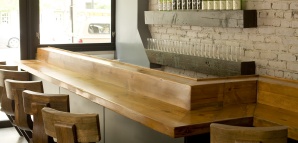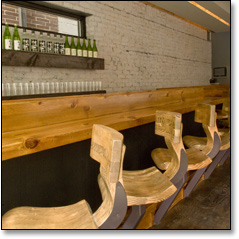 Fraudulent Rolexes, knockoff Louis Vuitton and—need we say it?—bad toupees aren't your style. That also explains why you flee from restaurants pawning off soy-soaked seitan strips as meat. Unless, of course, Pam Anderson is eating there.
So to keep replicants off your plate—and in the Gold Coast where they belong—make friends with
Mana Food Bar,
 your vegetarian tapas den opening Monday in Wicker Park.
After squeezing into the tiny spot—which looks, by the way, like the Near West Side loft that Grizzly Adams would keep, if he ever converted to Buddhism—ask for a hand-sculpted, lumbar-hugging seat at the bar. You'll get better access to the full complement of sake (we hear a sake-rita's in the works), plus it's the best way to experience the menu.
Owners Susan Thompson (Sushi Wabi) and Jill Barron (De Cero) have served you plenty of fish, fowl and just about anything else that roamed the earth over the years, so they see no reason to fake it here.
Instead, they looked to the rest of the world for inspiration. From bim be bop (Korea) to spanakopita (Greece) to rice-noodle pho (Vietnam), you may get mileage points with the check, but no animal protein, or even very much soy.
The closest you get to a beef substitute is the mushroom-and-brown rice sliders.
And even in this case, you'll be thankful it's not Tofurkey.