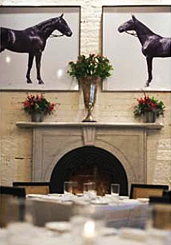 You weren't raised in a barn.
So if you suddenly find yourself inside one on the Bowery, we have a suggestion.
Order the 28-day dry-aged strip with a bone marrow béarnaise.
Welcome to
Saxon + Parole
, a horse-racing-inspired Americana grill that's set up like a stable, albeit one with a whiskey distillery in the basement, soft-opening tonight.
If this exposed brick/weathered wood restaurant looks strangely familiar, it's either because:
A: You're a jockey.
B: You used to come here to eat Szechuan chicken wings and slip into Madam Geneva back when it was Double Crown.
So while that whole British-colonial-Asian-y motif is no longer around, the old chef is. And this time he's put together a menu designed to accentuate all that's good about the grill. So there's crab-and-parmesan-stuffed branzino: grilled. Heritage Farms pork rack with purple potato salad: grilled. Maine lobster with sun-dried chili butter: sous vide. Relax, we're kidding, it's grilled.
And if you're planning on leading the kind of evening that requires a cocktail or three, you'll want to leave behind the chandelier-lit horse portraits and fireside farm tables of the upstairs dining room and head for a pin-tucked booth in the basement. It's down there that you'll find the house-run whiskey bootlegging operation.
But sadly, no OTB.