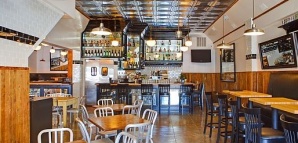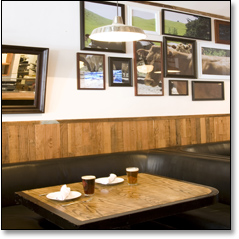 Among life's great lessons: There isn't much that can't be fixed with a good burger and a cold pint.
Or, even better, a burger and a beer float (more on that later). Allow us to present
8 oz. Burger Bar
, opening today on Melrose Avenue.
You'll recognize the address—it's the famed former home of celebrity chef Govind Armstrong's Table 8, which is moving up the street—but not much else. Instead of mohair walls and endless small plates, you'll now find a rustic, come-as-you-are vibe…and a rustic, eat-what-you-want burger menu. (All that remains is the occasional flash of Armstrong's signature dreadlocks to confirm you're in the right place.)
Grab the large leather booth in the back of the left room if you came with a pack of carnivores, a seat at the bar on the right for a quicker solo meal, or stick to the open-air sidewalk for a casual date. You'll be having that
Beer Float
(like a root beer float, but using one of the specialty brews instead of soda) with the
Estancia Grass-Fed Burger
, or building your own ode to beef with housemade extras like
Fried Green Tomatoes
and
Purple Mustard
. But if you've brought along someone who likes her burger bars a little less burger-y, she can have her patty in turkey, fish or veggie form.
You won't judge.