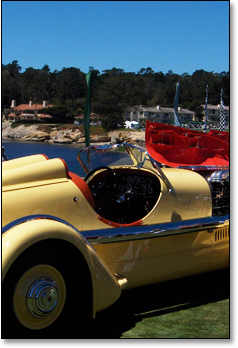 Those curves. That body. You had to have her the minute you saw her.
Yes, you've still got fond memories of your first car show.
And once in your blood, it never dies. Which is why you'll appreciate—on a number of levels—the
Pebble
Beach Concours d'Elegance
, the 58-year-old auto exhibition/competition/scene hitting Monterey on Sunday, August 17 (and taking your reservations now).
With 175 classic and concept cars valued at a combined $200 million all parked on one of golf's best finishing holes—the 18th fairway at Pebble Beach—the Concours is definitely worth a drive south. Featured "marques" this year are two sexy Italians—Lamborghini and Lancia—with anniversary callouts to GM (100 years young) and the Ferrari Spyder California roadster (50). As far as the competition—which is set up like your finest dog shows—judges seem to favor autos from the 1930s, from last year's Best in Show 1935 Duesenberg SJ Special, to Ralph Lauren's triumph in 1990 with a 1938 Bugatti Atlantic (we always knew he ruled the '90s).
If that's not enough action for you, head to Carmel for the previous Thursday's
Tour d'Elegance
—when all the beauties are taken for a spin along Highway 1 to prove they not only look good but drive well, too.
After all, a good chassis is worthless if there's nothing under the hood.