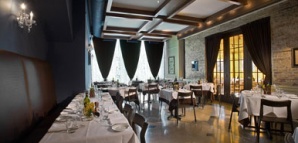 Your dream of an Italian summer sounded delicious: Lunch in the shade of some Tuscan villa. Dinner along the Sardinian coast. A simple pie outside a Neapolitan pizzeria.

But we did some quick dollar-to-euro calculations and found it's actually cheaper if someone brought Italy to you.

Say buongiorno to Piccolo Sogno, your personal alfresco paradisio, opening Wednesday.

Complete with a lush and airy back patio, Piccolo transports you oceans away from busy Halsted Street (OK, maybe blocks). The garden outdoes former occupant Timo (no slouch in the authenticity department), and the fragrance of new junipers, and soon, fresh herbs, will have you swearing you're on a mini Roman holiday—without Gregory Peck there to steal all your Audrey Hepburns.

Everything here is the real thing, from that olive oil on your table—sourced from a little village outside Florence—to the Murano-fired glass fixtures dripping over the bar.

Even the 150-bottle wine list is pure Italian.

Still, we say go with a cold Menabrea. The Italian brew stands up nicely to Piccolo's wood-fired pizzas and its porchetta, Roman-style roasted pork.

Leave the vino for the tourists.