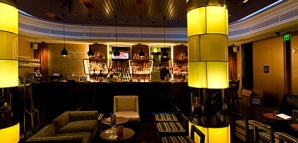 So Clock Bar, the first drinks den by chef/restaurateur Michael Mina, is set to open Tuesday in the Westin St. Francis.

And we already know what we're labeling it: a clock-tail lounge.

Named after the century-old Magneta grandfather clock in the hotel's lobby, Clock Bar brings you creative yet classic cocktails built on seasonal ingredients, local spirits and mounds of history. Lore has it that the martini originated in San Francisco, with the olive garnish born at the St. Francis, so it only makes sense that the St. Francis Cocktail (Junipero gin, dry vermouth, olives) is the menu's headliner. (You can also choose from some 300 wines, with 15 by the glass, if you want to make a statement about how different you are…or if you just like wine.)

Meet your friends by the international clocks—two amber-hued, hand-blown glass columns with ticker-tape readings of the time in New York, Rome, Tokyo, Paris and Chicago—then take a seat at the rosewood bar. Start off with Truffle Popcorn, or something heartier like the Grilled Wolfe Ranch Quail.

We're pretty sure both will stand the test of time.