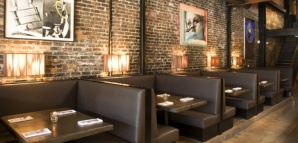 As for that saying "go big or go home," well, you always go big...but you rarely go home.

So you're always on the lookout for a standout establishment that can handle all your away-from-home needs, be they raucous happy hour, casual dinner date or unadulterated balcony blowout. Maybe even all in the same night.

Turn promptly onto Rush Street—the cavernous Chicago-inspired restaurant, bar and lounge opening Saturday.

Far below the open-beam ceiling, you can take a seat at the 36-foot concrete slab of a bar for BBQ Pulled Pork Sliders and a pint, or grab a booth by the brick wall for a proper dinner of Roasted Marrow Bones with Braised Pot Roast Marmalade. (We like the table under the graffiti-ed portrait of Gwyneth Paltrow by that movie star/edgy artist Viggo "Aragorn" Mortensen—brings a little LA to the place named after the famed Chicago drive.) If you're feeling rubberneck-y, there's the sidewalk patio out front, but the large U-shaped enclave in back can be roped off for a more private affair.

And there's more upstairs—the rear balcony overlooking the dining room has another bar, DJ booth, lounge seating and, behind that, a walled-in rooftop patio they'll tell you is the only one in Culver City.

Another reason not to go home just yet.