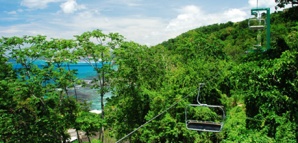 Some sports are too good to be confined to one season.

Take bobsledding. Why keep the thrill to the winter—and why suffer the snow when you could head south?

Opening this month in the northern Jamaican town of Ocho Ríos, the aptly named Rainforest Bobsled Jamaica—inspired by the country's infamous Winter Olympics team—is your chance to sled the Caribbean, Cool Runnings-style. The 3,280-foot stainless steel track winds through tropical forest and past limestone cliffs—though, at bobsled speeds, you may not be pausing to contemplate the scenery.

Furthering the thawed-mountain theme, the park features a chairlift through the canopy, which will provide you with a slightly less adrenaline-charged encounter with the tropicalia around you. And when you need to catch your breath, go for an après-sled meal at the summit restaurant—before heading to the intra-forest zip line for another dive down the mountain to the beaches below.

Good luck finding that in Aspen.