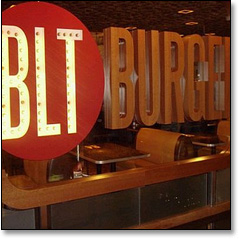 Vegas may be far from the picket fences and Fourth of July barbecues of the Norman Rockwell-esque past, but you can access at least one great Independence Day tradition here—the burger.
Welcome to
BLT Burger,
opened yesterday at the Mirage. Why do we care about a burger joint in Vegas? Couple reasons:
First, this is BLT's first burger place in Vegas and only the second one nationwide. Second, we love flavorful, juicy Black Angus beef (BLT uses sirloin and short-rib cuts, among others). Our recommended approach: Order
The Classic, 
and ask them to double up on the beef (you can do the same with the outstanding
Lamb Merguez Burger
). 
For a more Vegas-specific flavor, there's
The Stripper
(The Classic, served bun-less), which you can wash down with 
The All-Nighter
(a spiked espresso milkshake), while deep-fried pickles serve as a suitably filling side (think of it as kicking the South Beach diet in the teeth).
It takes a formidable stomach to still be hungry after that, but BLT's signature
Krispy Kreme Doughnut Bread Pudding
is tough to pass up. It's served in BLT's dining room and counter until 4am daily (as are the doughnuts themselves), so you can get your sugar fix halfway through your all-night baccarat binge.   
After all, instant gratification is an American tradition, too.