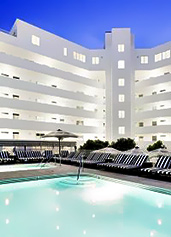 Call us psychic, but we see some raucous beachside pool parties in your immediate future. Like really immediate.
So we thought we'd tell you: there's a new way to find someone to put lotion on your back...
Introducing the
Hotel Shangri-La SocialStay App
, a new piece of technology that will allow you to meet pool partiers without leaving your lounge chair, available now.
So picture it: you're poolside at the Hotel Shangri-La this weekend. Across the glittering water, you see her. She sees you. It's a transformative moment. Like you see each other's souls. (And they're spectacular.) And then—she's gone.
Not a problem: log on to this app and you'll see a list of people on the property who've done the same. Find her on the list (it looks sort of like your Facebook wall, complete with thumbnail photos), send her a message that wins her over with a combination of charm, wit and
Office
references—and figure out a time to meet up at the bar.
Which reminds us. On Sunday from 8pm to midnight at the roof bar, the hotel will also kick off this app by pushing new half-price drink specials to your phone every hour. So you'll still want to download this thing if you're just stopping in for some pre- or post-beach vodka.
Or some pre- or post-vodka gin.