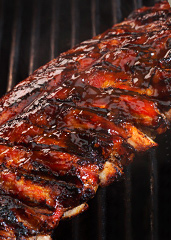 You can smell the pigskin.
Your Brady jersey has begun glowing blue in your closet. Your Danny Woodhead fan blog has started self-tweeting.
Yes, football season is here. Which brings up the matter of tailgating. And how to do it properly. With, say, the aid of a rib-delivering butler.
Presenting
Boston Butler's Ultimate Tailgate
,
the kind of luxe tailgating scenario you've had in dreams of football seasons past, booking reservations now.
So imagine it: you've got tickets to the game. You call this guy up and see if he'll be set up already (or if you've got 34 friends going down, he'll just set up for you). Then, you'll make your way to his designated tailgate gentlemen's club (not that kind) positioned about 1,500 feet from the entrance to the stadium.
Awaiting you there: a heated tent city with an all-you-can-eat BBQ buffet. Think: marinated steak tips, chicken, four-alarm chili, chowder, even ribs and sausage. And no need to bring your bottle-of-bourbon koozie anymore: this has beer and a full liquor bar.
And since you're wondering, yes, there's also cable TV, a Texas Hold'em table, a live DJ and private bathrooms (this is key). Oh, and should you need an extra ticket—let them know while you're booking this—they'll even assist in tracking one down.
Then again, you may just want to watch the game from here.