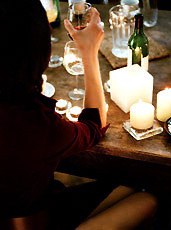 The kitchen. Your old friend/nemesis.
On occasion, you've been known to whip up a thing or two in there that doesn't involve "hot" and "pockets."
But when it comes to cooking for others, it's good to have backup. Especially the kind that purposefully fools people into thinking you did the cooking...
Introducing
Andiamo
, a new catering outpost that has no problem creating food you can pass off as your own, now open in Charlestown.
Turn to this place the next time you've been tasked with outfitting your apartment as a culinary headquarters for an afternoon feeding an army of friends (so, any football Sunday, let's say).
Your first move: call these guys up. Then, go for their "faux chef" option,
where you'll outline a custom menu
based on how many people you're feeding, exactly what kind of food you're thinking of (tip: get creative and go off-menu) and when you need it.
The owners—who have experience in New Orleans and at the prestigious P.F. Chang's—can do anything from Asian to Italian to seafood and even Cajun (think: authentic gumbo, jambalaya and étouffée). All of it is then prepped and presented to you in clear Pyrex glass dishes to take home, throw in the oven and pretend like the bounty is of your doing. You even get to keep the dishes afterward.
Aluminum trays tend to blow your cover.