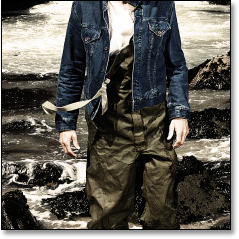 Classic style usually means looking back a few decades, but
really
classic style means going back a little further.
Like a couple centuries.
For this level of nostalgia, you must step inside the new
Indigo Farm
pop-up shop at Fred Segal Man—a temporary home for a singular collection of ultra-classic menswear not available anywhere else in the country.
Limited to just 20 pieces, the store's new collaboration with the cult-favorite brand is heavy on denim that feels of-the-moment and rare—only 50 or 60 of each piece have been made—but rugged enough to be worn by a 19th-century miner. (Assuming 19th-century miners got worked up about Zimbabwean cotton.) In addition to the dungarees—which will be handed over to you in a wooden box—you'll also find basic oxfords, linen gingham button-ups and corduroys that were indigo rope-dyed so they'll age like jeans.
Of course, if you're feeling a little less 19th-century workman and a little more cosmic rock star, then the calfskin hoodie or the three-piece handmade denim luggage set (one of only three that were made) will likely suffice.
Not quite the same as striking gold, but you'll take it.