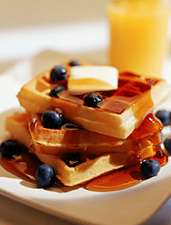 There's something on the horizon.
It's huge. People are tweeting about it. Its every move is being tracked by those obsessed by its sheer power.
Yes, we're talking about National Waffle Week. And here's your sit-down dinner to celebrate it...
Presenting the
Black Tie Waffle Dinner
, a one-night formal affair celebrating the glory that is Waffle Week, going down a week from Thursday at Stella in the South End.
As far as pseudo-holiday observances go, National Waffle Week has always been your favorite (followed by your other favorite: Banned Books Week).
You'll want to start by reserving a spot for you and a date (preferably someone without a gluten allergy), and get ready to have your favorite suit, tux or formal black-tie attire cleaned and pressed (which should be easy ever since you built a dry cleaners into the east wing).
Then, you two will show up on that Thursday and claim your place, joining the other waffle enthusiasts present for
a four-course feast
featuring different interpretations of the star dish. Think: Harlem-style chicken and waffles, braised short rib with polenta waffles and tomato-cucumber gazpacho with basil pizzelle (call it waffles by way of Rome).
Of course, no meal of breakfast-ish delight should be without booze, so they've paired each dish with a fitting beverage, be it a vintage cabernet, Belgian beer or even a gingerbread martini.
Martinis. The ideal breakfast food drink.
Note:
Black Tie Waffle Dinner at <a target="_blank" href="http://www.bostonstella.com">Stella</a>, $60, September 8, 6-9pm, reserve at 617-247-7747, <a target="_blank" href="http://www.urbandaddy.com/uploads/assets/file/pdfs//f4b4d7b094f4808eab6713d2b6d32dd1.pdf">see the menu</a>