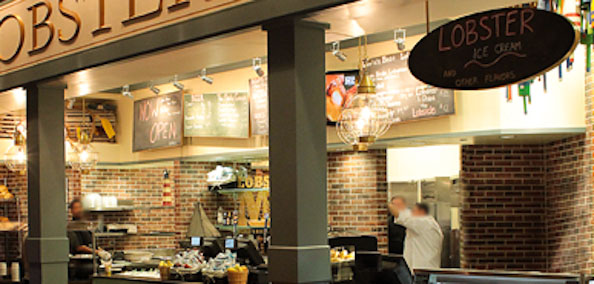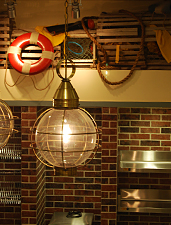 A fisherman's shack off the coast of New Hampshire.
Sun setting. Faint waft of drawn butter in the breeze.
The lobster roll to end all lobster rolls.
Now available in the middle of a vast inland desert...
Welcome to
Lobster ME
, a mecca of Maine lobster rolls modeled after an Atlantic Coast dockside seafood counter, opening this weekend at Planet Hollywood.
We know what you're thinking. Carefully placed lobster cages, decorative buoys, a little nautical rope, in a mall, in a mega-casino... perfect. (Hey, it's Vegas, everything has a veneer.)
So when you're coming off a multiday casino war bender and get a hankering for some crustacean-based comfort food, head straight for this place. Order the lobster mac and cheese, a few lobster grilled cheeses (a gruyère, brie and cream cheese combo that took 30 tries to get right) and several of what they're calling the "World's Best Lobster Roll" (knuckle and claw meat, mayo, spices and bread flown in from Massachusetts). Our advice: get it to go.
Just make sure to add a few lobster shooters—Bloody Mary mix, vodka and a lobster claw—to go with the dozen or so
Lobsicles
(lobster tail kebabs, basically) you'll be taking back to the room.
You've always been a sucker for meats on a stick.