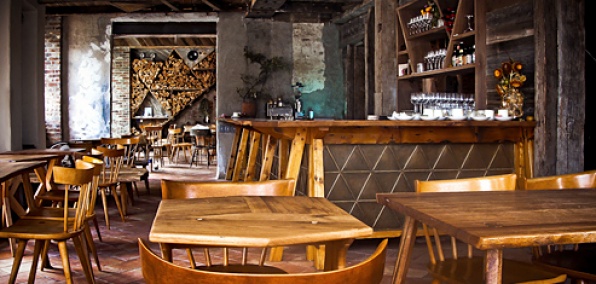 Dating Rule #123: keep it simple.

Dating Rule #123, Section 12, Part C (halfway down the fifth page): never underestimate the atmospheric power of reclaimed wood.

Introducing Isa, a handbuilt, low-lit, rustic restaurant in Williamsburg that's intensely romantic, incredibly flammable and brought to you by the guys behind Freemans, now open Tuesday through Saturday.

We've found you a cozy log cabin to use for this fall. The catch: you'll have to brave the remote wilderness of Brooklyn to get there. And you'll need to really like Mediterranean food.

See, despite its appearance as an off-the-grid ski lodge, this firewood-bedecked eatery has a menu more akin to something you'd find in a Portuguese fishing village, not an Aspen base camp.

So you'll cozy up by the brick oven (you know, for a change of scenery) and steel yourself for a rotating cast of reinvented classics like skeleton-in sardines, whole roasted calamari, cast-iron-seared steak and that timeless combination of yogurt, melon... and duck.

If you're looking to drink something else besides the restaurant's cucumber spa water or vinegar lemon verbena spritzer, you'll have to bring your own booze for now. Though the future holds an eclectic wine list, a rooftop cocktail garden and a stocked bar made of what else: distressed wood.

But you probably already knew that.