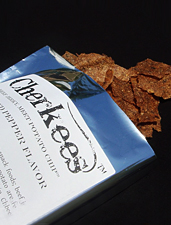 Life often boils down to choosing between two great things.

Pet Sounds
or
Sgt. Pepper's
. Kierkegaard or Kant. Paper or plastic.
Also: beef jerky or potato chips.
But today, we're happy to announce that those sad, painful days are officially over. At least in terms of choosing between beef jerky and potato chips.
Behold:
Cherkees
, the why-hasn't-someone-invented-this-already fusion of glorious beef jerky and even more glorious potato chips, available now online.
Now, what you have here isn't just a line of potato chips flavored in the styling of jerky. That would be cheap and easy (and, frankly, not worth sending an email about).
No, this is actually a true hybrid: lean beef and crispy potatoes fused together, with each serving packing a whopping 12 grams of protein (we're guessing the factory is helmed by some Ted Nugent-Paula Deen evil genius).
They come in two different sized bags and, for now, in cracked pepper and hot pepper flavors. But if you're an all-teriyaki kind of jerky person, don't fret. That's currently in the works for mass release.
Followed soon after, we assume, by a beer-energy bar Frankenstein.