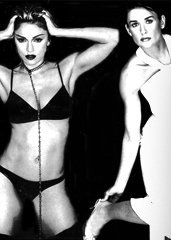 It's Monday.
You're back. Rested. And ready to tackle some big decisions head-on.
So we're going to get right to it: Demi versus Madonna.
Introducing the
Demi vs. Madonna Cougar Party
, a cougar throwdown where women of a certain age pledge their allegiance as either a Demi or a Madonna, taking place at 111 Minna on September 10 and accepting votes now.
Sure, it's not until two weeks from Saturday, but this kind of decision requires thoughtful deliberation. And so as to avoid arriving at some rash conclusions, you'll want to take this as your civic duty and reflect on both sides: brunette versus blonde, the marrying kind versus the out-for-a-good-time type, actress or... whatever it is that Madonna does these days.
Now, while it's not meant to be a costume party, and the ladies in attendance aren't required to sport bikinis or a cone-shaped bustier, you should expect a fair amount of role-play. Just to be safe, though, each cougar will get a badge indicating whether she's more of a Madonna type or a Demi. And if you still haven't come down on one side, you can see how the night goes and follow your cub-like instincts.
If, for some reason, you can't make it to the party but want in on the action, you can vote online. Actually, it's open for worldwide comment.
Which might give Madonna a slight lead.