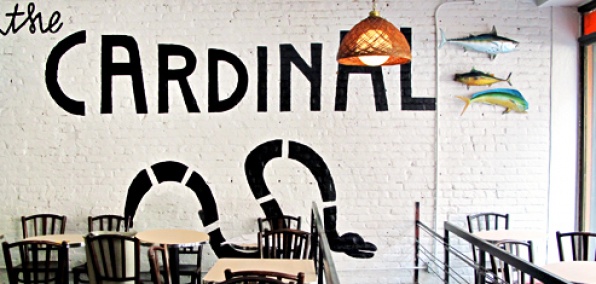 One day soon, beach season will end.
And while we don't feel it's appropriate (or nice, really) to talk about that now, we do think it's safe to start weaning yourself off the smoothie and spear-caught marlin diet.
So here, have a lard biscuit.
Courtesy of
The Cardinal
, a
comforting take
on Southern cooking (the chef's from Bubby's) that's keeping things low, slow and generously doused in red-eye gravy, opening Monday.
Get ready to start hearing "You've got a little something on your face. No. No. The other side" quite a bit, because the foodstuff (Memphis ribs, Carolina pig, Texas brisket) at this white brick bunker doesn't exactly skimp on the sauce. Thankfully, you've always been known to walk softly and carry a ton of wet-naps.
So if you're sitting back and trying to figure out the precise moment to grace this bi-level, So-Co oasis with your presence... the answer is yes. Show up early on the weekend, and you can settle into a pew-style seat for housemade hot links and sour cream pancakes. Between the afternoon hours of 4 and 6, it's counter service catfish sandwich time (naturally). And when dinner rolls around, you'll want to park things up in the mezzanine, where you'll construct a BBQ plate out of whole hog, pole beans and fried green tomatoes.
Feel free to ad-lib, though.