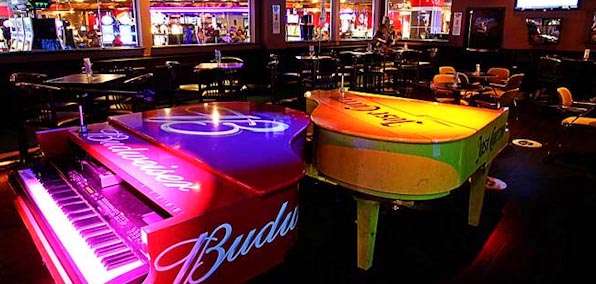 A little flexibility goes a long way.
Great advice for practitioners of the pole-based arts.
Also, for Vegas evenings.
So when a friend decides to go rogue—by that we mean off-Strip—you'll let the night evolve the only way you know how.
With some late-night disco mini-golf.
Introducing
The Swingers Club
, a brand-new, adults-only piano bar that also happens to have nine holes of mini-golf, set to soft-open next Friday.
Raoul and Dr. Gonzo would have had a hell of a time with this one. Picture two piano bar vets playing back-to-back in the center of an astroturfed putt-putt course. Add a bar, a DJ, flashing lights and maybe a fog machine. The anthropomorphic lizards will come later.
So after you've smoked your way through Binion's cigar buffet (hey, if you're in the neighborhood), make your way to the Plaza (they're in the middle of massive renovations—expect big things). Once you reach the front nine (also, the only nine), grab a couple craft beers and, for a small fee, a ball and a club. Ignore the dance floor—you have a putt-putt score to settle.
From here, things can get as weird as you like. You'll be taking on obstacles like Elvis, showgirls, the guys from
The Hangover
and tommy guns timed to block your hole in three. Something to keep in mind: this is happening under a disco ball.
Meaning you'll come in just over par.