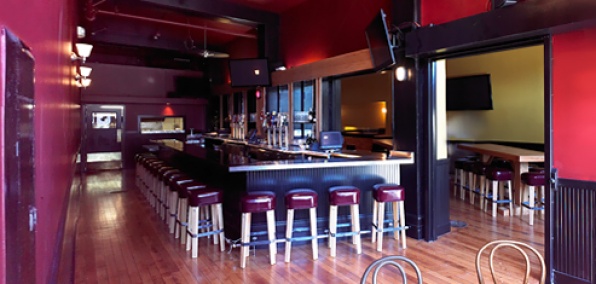 When it comes to handheld dining in the Mission, the burrito is the undisputed king.

Easy to eat on the go. Tastes great. Reminds you of old Mexico.

But there's a scrappy upstart out of Pittsburgh (by way of North Beach) that's going to make a go at it.

Introducing Giordano Bros. in the Mission, an all-in-one sandwich emporium and unabashed Pittsburgh Steelers bar, slated to open tomorrow on 16th Street.

With seven flat-screen TVs, an extensive beer-on-tap program and a long list of sandwiches, this second, sizable outpost to the smaller, simpler North Beach original is set to be your Rust Belt oasis in the heart of the Mission.

Now, back to their specialty. All of the ease and convenience you've always appreciated in a burrito is present in these sandwiches (in fact, they were designed so big-rig truckers could eat while behind the wheel). But instead of rice and beans, you can get your choice of steak, pastrami, hot capicola, you name it—plus french fries, provolone and slaw in between two hefty slices of bread.

It's a simple gold and black lair where you'll stop for Steelers games (if that happens to be your thing), a few Magnolia Brewery beers and a kielbasa all-in-one.

And if you're looking to blow off steam, you can pick up a game of shuffleboard.

Unless your hands are full.