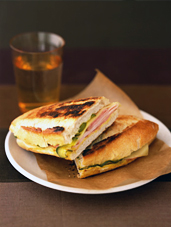 If you could have one wish, it would be for world peace.
If you could have one wish and nobody was judging you, it would be the ability to fit a whole hog between two slices of rye.
Abracadabra.
Welcome inside
The Cannibal
, a carnivorous, hand-carving butcher shop and restaurant that's attached to Resto and promises not to eat you, opening Friday.
Essentially, this is the place where impossible becomes possible. And possible becomes lunch.
So you'll walk in off the street with an empty stomach, hungry eyes and the harebrained notion to create the sandwich of your dreams (aka mutton and cow's tongue pastrami). Where anyone else might say no, these guys say yes. And then heat you a nose-to-tail sandwich on a waffle press.
During the workday, you'll make a regular pilgrimage here for LaFrieda ground beef, housemade boudin noir sausages or a moment of Zen in their outdoor yard before consuming a pig's head Cuban. In the evening, the top of the butcher case folds out into a table, and pork rinds, steak tartare and lamb's neck terrine breadless sandwiches (correction: small plates) are the order.
And because you're going to need a way to wash this all down, they've gone ahead and set up a 10-tap growler filling station, a line of hand-pumped lambic ale and 350 by-the-bottle beers.
Beverage monogamy was never your thing.