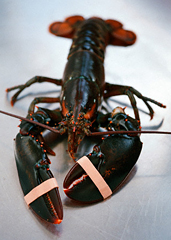 Tourists. They give you the fear. And the loathing.
Especially when they're staying at your place.
But today we know what to do with them. And we think you'll actually like it, too. Yes, it involves the Boston Strangler.
Presenting
Mobsters
and Lobsters
, a new tour that takes visitors through Boston's storied criminal underworld, hitting the streets every Thursday starting tomorrow.
This is the kind of get-to-know-Boston tour for that cousin of yours who can quote every line from
The Departed
and
GoodFellas
(and even the story notes for
GoodFellas
on AMC's "Mob Week"). You'll start by skipping the duck boats and boarding a trolley in front of the Aquarium (it'll be the one playing Sinatra... seriously).
From there, you'll traverse across the city as your guide details every notable act of murder and mayhem ever committed there: from the man who gave the Ponzi scheme its name (yes, he was a local), to IRA gunrunning locations along the waterfront, to mafioso Jerry Angiulo's hideout that was wiretapped by the FBI. There's even a swing through the posh neighborhood terrorized by the Boston Strangler.
And because any descent into hooliganism works up an appetite, you'll end with a tour and tasting at Boston Winery, followed by a massive Italian dinner on the water featuring Maine lobsters.
As far as we know, they were legally caught.