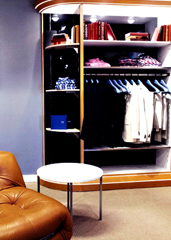 You've heard it more than once this summer:
"Wow, your body is completely one-of-a-kind."
And there are two proper methods for handling this:
1) Humble gratitude.
2) Dressing in completely one-of-a-kind clothes.
Allow us to help with the second method:
Seize sur Vingt Shop in Shop
, a new home for dapper made-to-measure shirts and more,
opening Thursday
on the second floor of Ron Herman on Melrose.
If you've ever been to the custom lounge in Seize sur Vingt's SoHo shop in New York, it's kind of like that—bright and white and modern, dotted with old albums, reel-to-reel tape decks and a staff that really knows how to operate a tape measure. If you haven't... well, it's still like that anyway.
If you just need a good stone-khaki suit of Egyptian cotton or a couple nice new shirts—the kind that look sharp in the office but not out of place when you roll up your sleeves for happy hour—you'll find some here that won't be sold anywhere else.
But you can also work with the tailor to create a few shirts from scratch—just make some big decisions about fit, collar, cuff and patterns, and in about four to six weeks, boom: your custom shirts will arrive.
Soon, they'll also do custom suits, jackets and pants.
In the meantime, keep your bicep size consistent.