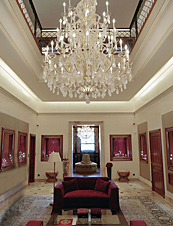 You will get dragged to Tiffany's at some point.
Hell, it may have already happened. She just wants to "look around" the world's most famous jewelry store, and you are forced to follow her from display case to display case like a sad little puppy. You deserve better. We're here to help.
Just follow our so-simple-it's-elegant plan and you'll be sipping champagne in the recently opened
Patek Philippe Salon
store-within-a-store before you know it.
First, the endgame: The salon is the new U.S. epicenter for the Swiss watchmaker you know and love for making some of the best watches in the world. So rather than running all over town (or the country, or the world) to find your new rose gold Calatrava, it comes to you. And it brings friends: The salon has the largest collection of Pateks we've ever seen assembled in one place.
Now that you're properly motivated, the plan: In a stroke of genius/luck, the men's room at Tiffany's is right next to the salon. Simply excuse yourself, head off to the "bathroom on the mezzanine," graciously accept a glass of champagne and find yourself to your white gold Gondola. And if you're gone longer than the standard bathroom trip, not to worry: She's well taken care of downstairs.
Nothing distracts like diamonds.