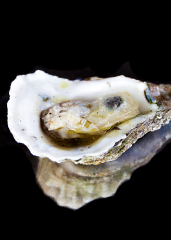 You love all things mobile.
Smartphones. Food trucks. Homes (see: your to-scale replica of a Dubai luxury yacht).
And now, get ready for the mobile raw bar. From Cape Cod, naturally.
Meet the
R.Shucks Travelin' Raw Bar
, a veritable seafood restaurant on wheels, taking reservations now for your next dinner party, backyard BBQ or Polynesian-themed wedding reception.
So let's say you're throwing another epic Labor Day bash, and piles of mollusks are needed. First, you'll contact this guy (his name is Thomas... or you can just call him R.).
After giving him a list of your demands, he'll source an array of fresh seafood—everything from littlenecks, hard clams and shrimp to three kinds of oysters. Then, he'll make the pilgrimage up from the Cape with raw bar in tow, set up in about 45 minutes and start slinging his jewels of the sea (note: still talking about oysters).
He can do themes (tiki, Fiji... Cape Cod), and he's also willing to bring his 800-pound ice maker powered by a five-kilowatt generator. Which tends to come in handy when you've got throngs of people ravaging your home bar and need the ice to back up all the cocktails.
Or if you just really like ice.