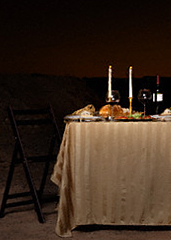 Famous things the French have given us:
Lady Liberty. Brie. Kissing with tongue.
And now... the longest meal of your life.
Presenting
Le Grand Fooding
, a pair of charitable dinner festivals that bear a striking resemblance to Woodstock and the New York Marathon, with early-access tickets available now.
Essentially, this is a series of meals born out of that budding Parisian food/surrealist performance art scene. So you'll reserve a spot at either pop-up feast partly to sample a lineup of international restaurant all-stars (Del Posto, Le Chateaubriand) and partly because you've been in the market for a high-concept, 52-hour dinner experience.
Everything starts on September 17 with an edible concert, a Foodstock if you will, inside a SoHo garden turned campground. If you opt for this event, you'll spend the evening sitting in the grass around roaring log fires, while Sasha Petraske mixes cocktails and the guy from LCD Soundsystem plays a DJ set specifically tailored to your bites of fried chicken.
If you prefer to dine for distance, you'll attend dinner #2: a giant, gastronomical relay race where cooks partner up (Andrew Carmellini and Hugue Dufour are up first) and prepare multicourse meals in tuxedos before turning over their leftover stock to the next pair. Tickets will be sold in four-hour blocks, and the process will repeat nonstop for 52 straight hours.
Remember to hydrate.
Note:
<a target="_blank" href="http://www.legrandfooding.com/new-york/campfire-urbandaddy.html">Le Grand Fooding Campfire Session</a>, September 17, 6-10pm<span>; <a target="_blank" href="http://www.legrandfooding.com/new-york/exquisite-corpse/23-andrew-carmellini-hugue-dufour.php">Exquisite Corpse</a>, September 23-25<br /><b><br />UD Hookup:</b> Tickets for both Le Grand Fooding events open to the public on September 1, but UD is <a target="_blank" href="http://www.legrandfooding.com/new-york/campfire-urbandaddy.html">getting you exclusive access</a> to presale Campfire tickets now. <a target="_blank" href="http://www.facebook.com/urbandaddy">Stay tuned</a> for presale access to the Exquisite Corpse dinner in the coming days...</span>