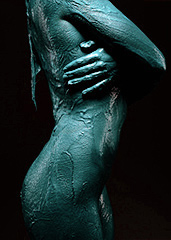 It's been a tough week.
First came Monday. Then there was the heat. Then, the financial markets collapsed.
Don't worry, things are bound to get better.
Better: a Thursday night fete with art, film... oh, and some naked models being painted on.
Presenting the
RAW Boston
party, a mishmash of dancing, short films, comedy and the time-honored art of body painting, going down at Guilt tomorrow night.
First things first: get to Guilt tomorrow by 8pm. Just trust us on this. You'll first be greeted by a cocktail hour, during which you'll carouse around the display gallery—absorbing everything from murals to photography to street art (leave your tagging spray at home, though).
If you're into a leggy-model-filled fashion show, stand-up comedy, live music, short films (one is in French) and performance dance featuring the choreography team behind Bobby Brown and NKOTB, that will happen next. Then: DJs will take over for the dance party rounding out the night (along with your "Every Little Step" moves).
But before all that, you'll be treated to a little performance art. By which we mean: a few models will emerge, they'll make themselves naked, and an artist will draw and paint all over their bodies, creating live works of art for your aesthetic pleasure.
Inspect the work closely.