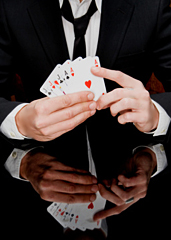 Everyone has a weakness.
You, for one, will trust anything a naked woman holding pocket aces says.
We'd like to help.
Our suggestion: immersive therapy...
Welcome to your private
Strip Poker Party
, a package that involves you, nine of your friends, the best suite at the Palms and a dream team of exotic dancers, models and midgets, taking reservations now.
We need you to focus. You're going to be mulling over your party options in a few minutes, and that's a lot to think about. For now just know you will be playing strip poker, in your suite, with dancers sourced from the largest gentlemen's club in America. Their job is to get naked. And you probably won't beat them at their own game.
Here's how it all goes down: the minute after you finish reading this, you'll contact the concierge at Vegas VIP (who happens to know a guy at a certain gentlemen's club). They'll arrange the crack team who'll gather in your suite to set up the tables as soon as you agree on some numbers. Little people, bartending in tuxedos: three. Playboy Bunny dealers: two. Members of Fiddy's security team, standing guard: one. Dancers: two blondes, a redhead and three brunettes. Just to start.
We give you eight hands, max.