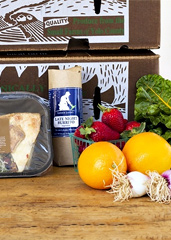 Secret passwords.
Knowing glances.
Filling silences with witty repartee.
Underground dining can be tough work.
So if some of the chefs from these clandestine evenings were willing to deliver meals to you, well, you could consider it payback.
Allow us to present
Luke's Local Meal Boxes
, a box filled with both farmers' market produce and enough pre-prepped meals made by local underground chefs to last a week, available for delivery or pickup now.
Basically, the contents of this box serve as a food survival kit for nights in. The pre-prepped dishes will save you when you don't feel like ordering out, and the fresh produce will be on hand in case you want to make your famous chicken paprikash. Then, for everything in between, there are some of Luke's burritos (breakfast, lunch and late-night options).
Since the chefs are from Stags Dining and GraffEats, you'll be able to look through their menus a week beforehand to make selections. Once they send you the online order form, you'll check off as many pre-prepped meals as you want (along the lines of Argentine steak, Cuban porchetta and braised short ribs).
And while there's nothing wrong with delivery, you can also pick up your order at a bar like Bullitt and work in a few pints in the process.
Or just go to Bullitt anyway.