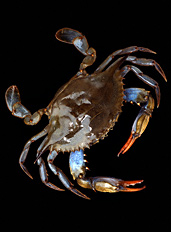 We need you to whack someone.
Actually, 48,000 someones.
Don't worry, they all deserve it. Probably.
Also, they're crabs.
Presenting
Hammer & Claws
, an enormous all-you-can-eat/drink blue crab fund-raising feast at the end of the summer that's being moved—for your direct convenience—from the Chesapeake Bay to Chelsea, tickets on sale now.
Okay, so it's not being adopted by the Ripken family, but if you're after the authentic Maryland summer experience, it doesn't get much better than picking through a heaping pile of Old Bay–seasoned crabs.
So you'll reserve a spot, choose a seating (Saturday to Sunday, lunch or dinner) and then, when the last weekend of September rolls around (if summer has to end, let it end with crab), head to the space formerly known as the Tunnel for the largest mass malleting in New York state history.
The honorary guests, about 500 bushels' worth of peak-season male blues, will be taking a quick vinegar, beer and Old Bay steam bath before meeting up with some fresh ears of corn atop your butcher-paper-covered table. Then, for what will amount to four hours of deliciously satisfying manual labor, you'll hammer and crack your way to morsels of succulent jumbo lump in the name of charity.
It's the single most selfless act one can perform while wearing a plastic bib.