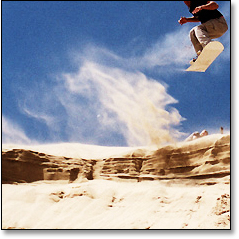 We love the city, but let's face it, we love leaving it even more. Hence Get Out of Dodge, which periodically hooks you up with the best weekend getaways just a short skip away. Get going...
It's officially summer, which means your snowboard's collecting dust and you need your downhill fix. Fast.
Our advice? Sandboarding at
Sand
Master Park
in Oregon. It's like snowboarding, except on the beach, and we think it'll provide the warm-weather adrenaline rush you've been craving.
The world's first sandboarding park (opened in 2000), Sand Master—with 40 acres of sculpted sand dunes, rail slides, ramps, chutes and bowls—is a mecca for pro and amateur boarders. Don't worry about bringing equipment: The staff will outfit you with all the right gear, like the Venomous Liberator sandboard, which is easy to handle and has speed to burn.
The timing is right, too: You can test out the park's week-old slope—it's their first manmade one, built right off the highway for last weekend's Sand Master Jam Championships (now that that's over with, the real games can begin).
After a full day of sandboarding, you can cool down with sand-cycling or surfing.
But we actually recommend moving straight into après-sandboarding at one of the nearby bars, like Jerry's Place, or at
Rogue Brewery
an hour up the coast.
Because if 1,500-foot sand dunes teach you anything, it's that balance is essential.