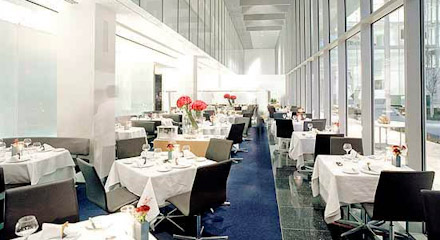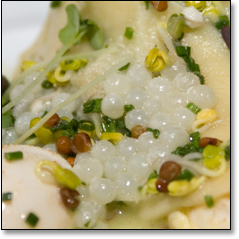 Even in a city with a virtually limitless array of dining options, some dishes are way too good to miss—they demand immediate consumption. Every month, our feature Served Up gives you the lowdown on a standout dish in the city. Dig in.
You're easily bored by the mundane, and well-accustomed to the latest and the greatest from the far reaches of the globe. Including, of course, caviar.
So we're pleased to bring you a small but mighty oddity, the likes of which you haven't seen before.
Introducing
Snail Caviar
. It's never been sold before in the States—or at least not in this pure form. The delicacy in question is the brainchild of one French farm's love of the escargot and the whole escargot. Once the light bulb went off and they considered the snail's egg-laying potential, these babies were born. (Or actually not born.) And now they've landed at The Modern.
Of course, we don't recommend you take this on in a bonsai-culinary attack, the likes of which you might find on the Food Network. Rather, a slight wave of hand to your waiter and the simple utterance "Bring me the mollusk stuff" should do just fine. Next, gently indulge. We'll warn you in advance that there is a peculiar texture: Firm at first, they burst on the tongue, leaving you with the feeling you just ate a tiny escargot-flavored water balloon. Of course, you could always ease your way into the experience by sampling the little guys in the
Ravioli of Escargot with Slow Poached Quail Eggs and Mustard Greens.
Think of it as coming out of your culinary shell…