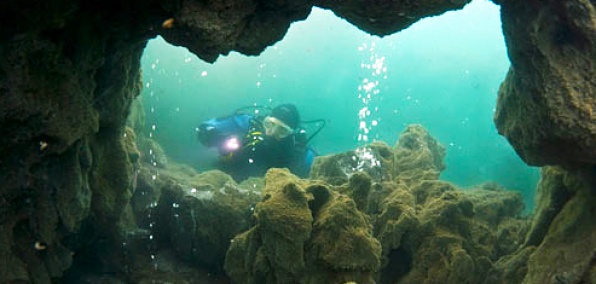 Iceland.

A magical land of spewing volcanoes, out-of-control national debt and pixie-like singers who occasionally wear swan dresses.

Also: home of your next hot springs adventure.

Introducing the Geothermal Hot Spring Dive Tour, a day trip where you'll dive a bubbling volcanic lake and see the sulfur-rich mud of neighboring hot springs, taking reservations now.

This is probably the closest you'll ever get to diving a massive, mineral-rich hot tub. (Probably.)

So if on your next jaunt to Reykjavík, you're finding it difficult to fill your days—the sun never really sets—you'll give these guys a call. They'll 4x4 you to Lake Kleifarvatn, 30 minutes away, and set you up with your gear—scuba if you're open-water certified, snorkel if not.

You'll start at the beach and swim after your guide until you reach the hot springs, discovered just last year. It's a shallow dive (only around four feet down), but there will be bubbles. It will be warm. And when you dive into the geyser, you will—as the bard Marky Mark foretold—feel the vibration.

After you've had your fill of bubbling fissures, or just being underwater, you'll get to see geothermal areas and the kind of mud you'll want to slather on your body. You'll also have the option of soaking in different hot springs, this time without the oxygen tank.

Go ahead, invite Björk.