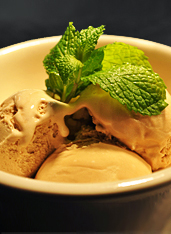 Mid-70s and balmy today.
The sun is out. The bay windows in your office are wide open. The afternoon meetings have been canceled in lieu of back-to-back pub meetings.
If there was ever a day to tell you about rum-soaked ice cream, it's today.
Behold
Jamaican Jamboree
, a new homemade ice cream that combines your loves of caffeine, rum and... homemade ice cream, available now at Kingston Station.
It's Friday and you've got work to blow off, so let's dive right into the ingredients. It starts with housemade vanilla ice cream. (So far, so good.) Added to that: rough-ground espresso that uses beans steeped in milk and cream for 30 minutes, which is three times longer than normal espresso ice cream. The effect: heightened caffeine potency.
Then things take an adult turn. They add four ounces of Jamaican rum (hence the name) and a few tablespoons of coffee liqueur. The result: a boozy, caffeine-laden treat that will cool you off, amp you up and mellow you out. Somehow all at once.
And in case you've recently sworn off rum-and-coffee-based desserts, they've also got an Irish Car Bomb ice cream (yes, it's got Guinness, Baileys and Jameson), a strawberries and champagne ice cream and a drink with passion fruit and rum called the
Fidel Castro
.
It's perfect for sharing.