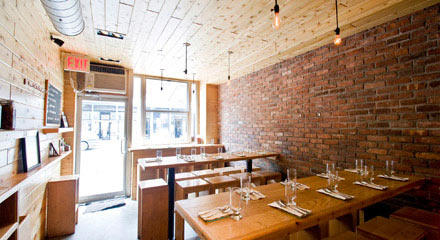 When you think of making purchases by the kilo, organic chicken isn't the first white substance that usually comes to mind.

But starting this Saturday for friends and family, Mercadito Cantina is set to light the East Village on fire with their meats by the kilo and tric-quila cocktails (more on this later).

It's safe to say Mercadito Cantina is the Pablo Escobar of organic Mexican meats—they've got grass-fed skirt steak, Berkshire pork belly carnitas, giant shrimp and the aforementioned organic chicken by the kilo, served with a smattering of ever-changing salsas, guacamoles, tortillas and fixings that you put together. So even if you've been to Mercadito's other locales, you won't see any of this stuff on those menus.

In fact, it's an entirely different experience. There's only one table—it seats eight, and it's perfect for a languid summer carnitas-and-Pacifico feast. If you don't have seven taco-loving señoritas, slip in for a tric-quila-fueled casual date or a pre-night-out meal at the salsa bar or the airy communal countertop table in the front window.

About that tric-quila—it's a brewed, herbal faux-tequila hooch that's mixed into cocktails like the Paper Daisy (fresh lime, agave nectar, orange flower essence).

It's the perfect complement for a quarter-kilo of pork belly.