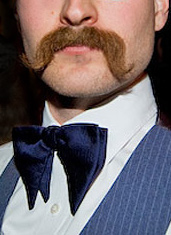 Let's talk about your trophy wall.
You've got MVP trophies (pétanque league, '06). Most Improved trophies (NBA, '07). Perfect Attendance trophies (pole-dancing class).
All impressive, sure. But somehow your facial hair hasn't brought you home any gold.
It's time to change that. So drop that razor...
Introducing the
1st Annual Los Angeles Beard and Mustache Competition
, your gateway to the glamorous world of competitive facial hair, accepting contenders now for the August 14 face-off at Federal Bar.
Basically, you've got two weeks to show the world (or at least North Hollywood) what you can do, whiskers-wise. But first, you need to decide which of the five categories you'll be dominating—mustache, partial beard, business beard, full-beard natural or freestyle. (Think ZZ Top for natural, and for freestyle... that crazy guy at Intelligentsia.)
You can get more specifics on the website (yes, sideburns and soul patches qualify as partial beards), but generally speaking, it's creativity and meticulous grooming that'll earn you hardware on the big night. (Plus: access to the VIP area, where we're assuming there'll be beard groupies.)
But if you don't need an award to validate your mustache (or you're, like, a woman), you can still show up, grab a beer and watch all the hirsute insanity go down. There'll be a full bar, live music and tattoo artists.
Go ahead, invite Selleck.