You're a master gifter.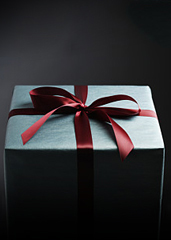 For your brother: jet ski with a bar. Your mom: birthday serenade from Manilow (he's a friend). Your secretary: her own secretary.
But what to get that Anglophile friend of yours has befuddled you to date.
Well, stop being befuddled. We have a suggestion.
Introducing
Not Another Bill
,
an intriguing new gift service from the land of tea and crumpets, available now.
Think of this as the Jelly of the Month Club, only instead of jelly, it's surprise gifts from the UK.
Once you've signed up and decided whether this is a one-off gift or a monthly service you want to bestow on someone (you
did
miss Grandma's birthday this year), your work is basically done. The site teams up with companies from around the UK each month and then delivers the goods right to your giftee's door.
And about those presents: they could be anything from artisan rings to vintage windup robots to ready-made, grow-your-own-urban-garden kits with seeds and instructions.
No, they can't ship an entire English pub. We checked.